Yesterday during my super duper mall excursion I saw the Twilight DuWop Lip Venom at Nordies. I am totally Team Edward so I decided to give it a go.
This version of the lip venom DOES contain cinnamon. When I chew cinnamon gum my tongue swells like a balloon. I was hoping for the same effect on my lips, and really I think it did give it a nice plump. After the first application it is PAINFUL. More so than the tingle of the original lip venom. Like it REALLY hurt for about a minute. But then it felt sort of cool.
I definately give this 4 out of 5 stars. Here is why:
PACKAGING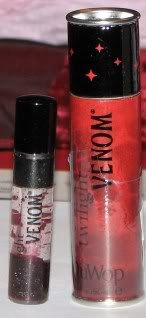 APPLICATION ONE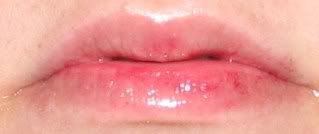 It looks like something is wrong with my mouth. The stain in the tube is minimal unless you swirl around and dig in there. This was the first application where I got very little stain. As you can see, it sort of settled in areas. Anyway, seeing as how I experience issues when I chew cinnamon gum I grabbed a MAC wipe and removed the lip venom. I happily note that the weird discoloration went with it. I decided to try again….
APPLICATION TWO


On the second dip I got quite a bit more color and it shows. You do still have to be careful, as it still went on a bit uneven. I wouldn't recommend applying this without a mirror. After I took this pic the baby woke up and began to cry, I didn't want to smooch her with the venom on so I wiped it off & was met with…
AN AWESOME LIP STAIN



I have almost NO pigment in my lips. It was nice to see a bit here to add some color on my face.
I say…. go buy it! It's pretty cool! Retail $16.00 at Nordstroms.