Bloggers review A LOT of products.  And by a lot, I mean a freaking LOT.  While you sit there and read your favorite blogs searching for your new favorite products, have you ever wondered what that bloggers holy grail (HG) items are?
This installment of Makeup Wars is going to answer that for you!  We've gathered up all of our favorite products, the ones we buy over and over, and are going to share them with you.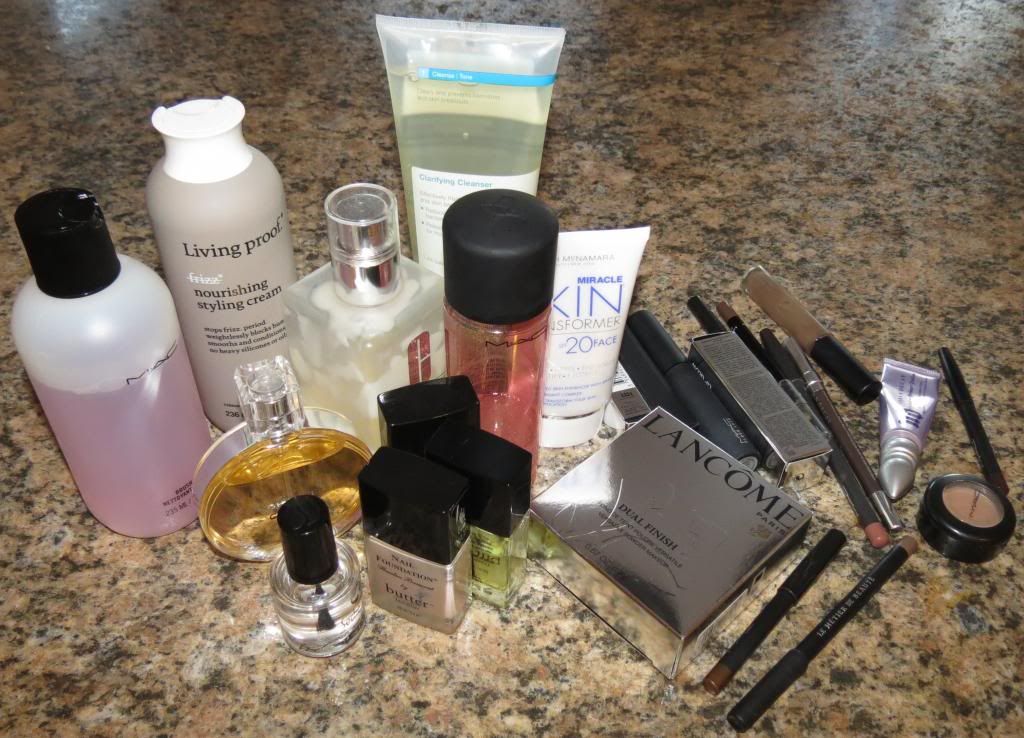 I've broken down my faves into a few sets, since there are a lot of products.  As I was going through my stash I was actually surprised to see how much love I have for a lot of core items.  As you review all of the collections and new products day after day, you do loose sight of the stuff you reach for on a daily basis.
Some nail loves that get me through major swatch fests and also the random full mani!  From left to right – who doesn't own some Seche Vite Fast Dry Top Coat?  I also love this set of three from butter London: Cuticle Oil, Flawless Basecoat and the Quick Topcoat.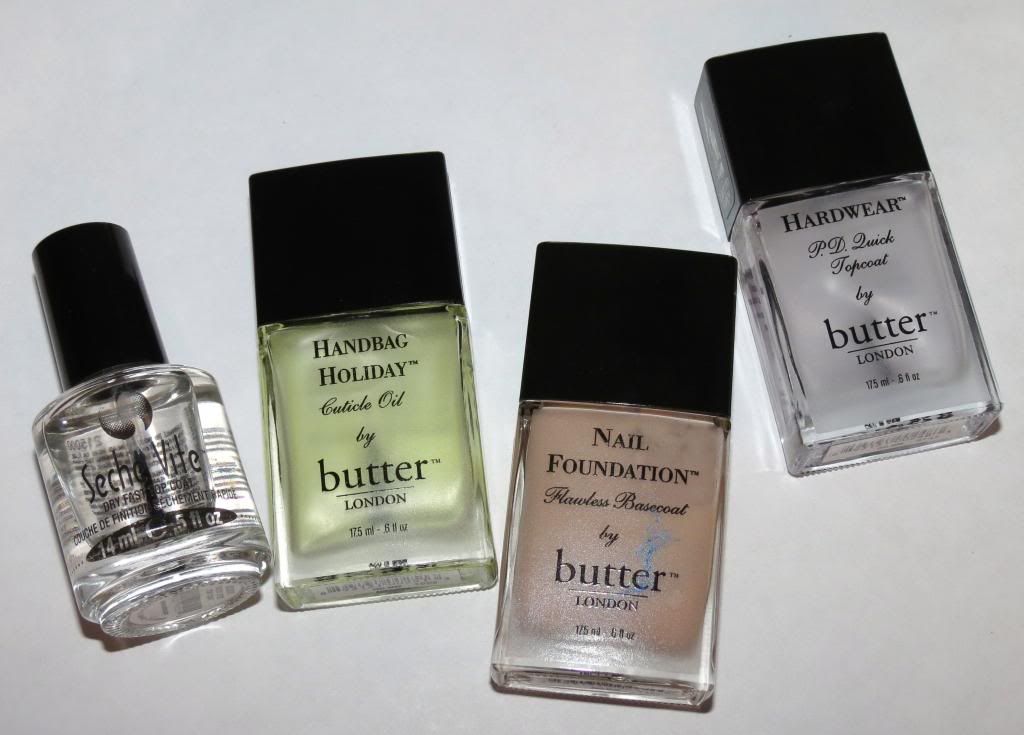 Below are some face loves!  The Miracle Skin Transformer is a new love, but I will never be without it.  I have never been a fan of any sort of primer for the face, but this stuff is on a whole other level.  The Lancome Dual Finish Powder has been in my stash since I was 16 years old.  You know something is HG if it carried you though high school and beyond!  Speaking of high school, another HG from way back when is the Clinique Dramatically Different Moisturizing Gel.  I actually used to use the lotion, but now the gel seems more of a fit for my skin.

This set is just a group of toiletry type items that I always need at my disposal.  From left to right – MAC Gently Off Eye and Lip Makeup Remover, MAC Brush Cleanser, Murad Clarifying Cleanser, Living Proof Nourishing Styling Cream and for my fragrance, Chanel Chance.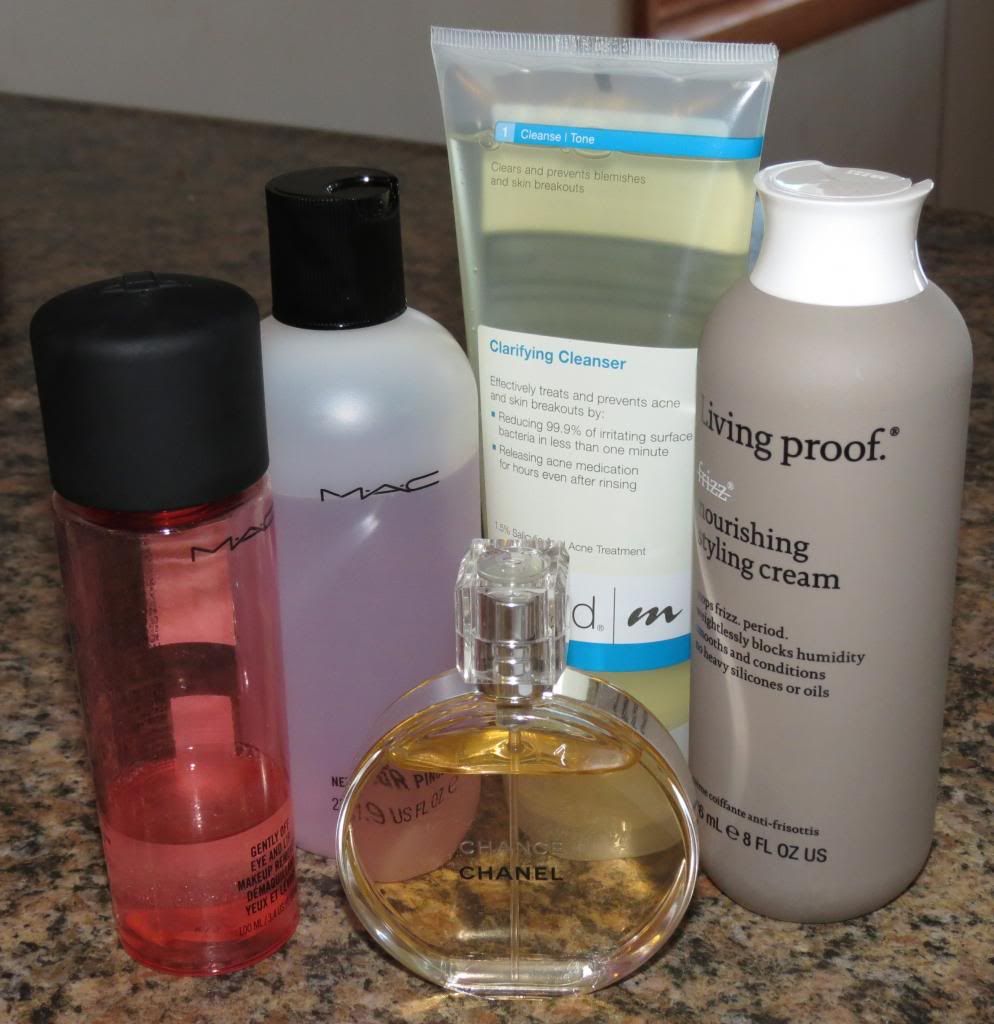 For the final set I've compiled makeup items.  Some I've used for over 15 years, and others are a bit more new to the scene.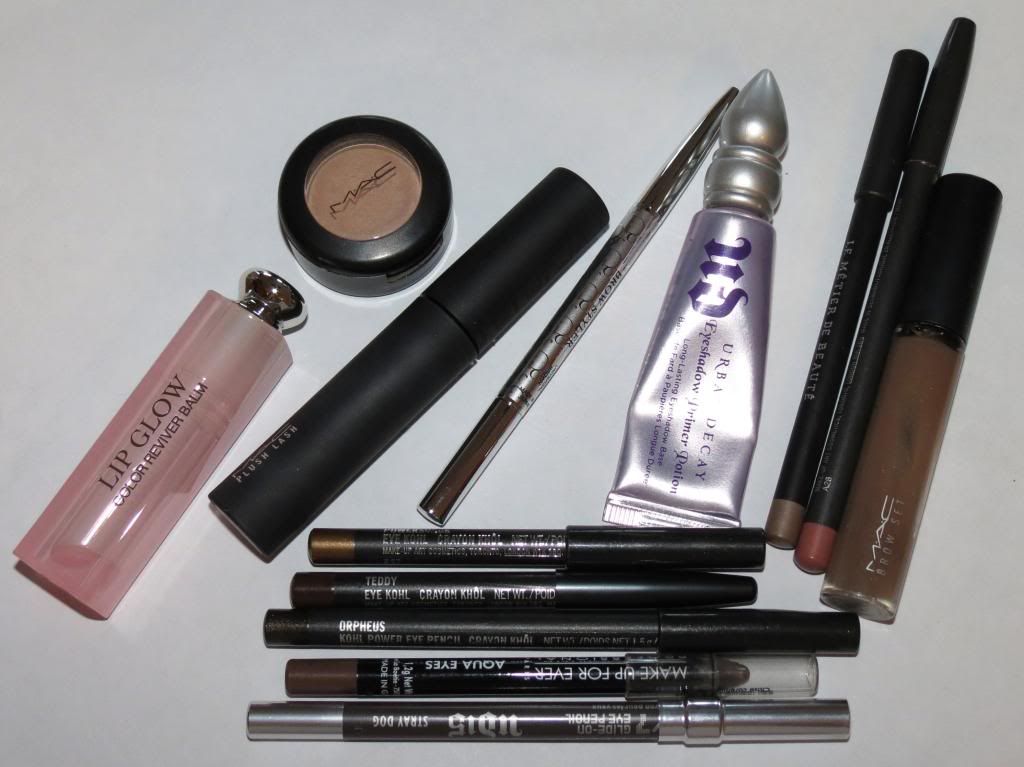 Dior Dior Addict Lip Glow Color Reviver Balm.  The shade of this will be different for everyone to create your perfect lip color.  It only hits off of the natural pigment in your lips, so you can apply on the go and without a mirror and feel confident that you don't look like a clown!
MAC Grain Eye Shadow.  It's a satin finish and just my go-to happy day perfect highlight shade.  The ONLY eye shadow I've ever hit pan on and had to re-buy!
MAC Plushlash Mascara.  Okay, so I cheat on this mascara quite a bit.  I always come back to it.  I have a different favorite for more dramatic lashes (Chanel Le Volume), but the Plushlash is the one I use every day without fail.  (Though, confession, I've been currently cheating on it again with Neutrogena Healthy Volume!)
Dior DiorShow Brow Set.  This was introduced to me during a Dior event a few years ago by the ever awesome Brandon.  It's universal and will adjust to the perfect shade.  No matter what my hair color, I can always count on this product!
Urban Decay Primer Potion.  It's just really one of the few that works for me.  I love a few others but they're more expensive.  Either way, I always go back to UDPP.
Le Metier de Beaute Dualtastic Eye Pencil in Champagne.  I actually bought this as an eye liner, but it looked a little much.  However, it's the PERFECT base for every one of their Kaleidoscope Eye Kits.  I tend to reach for it quite a bit, so I always have a back-up on hand.
MAC Subculture Lip Pencil.  This was one of the very first items I ever bought from MAC.  I remember it was recommended to me along with Prrr Lipglass back when it was made famous by Paris Hilton and her show, The Simple Life.
MAC Clear Brow Set.  I've used this for years.  It doesn't look clear in the pic because I use it every day and my foundations and powders have gotten in there.
MAC Liners in Orpheus Kohl Power, Teddy Eye Kohl and Powersurge Eye Kohl.  Orpheus is an LE item, but seems to be released again once or twice a year.  Every time it is, I buy one.  Teddy has been an item in my arsenal for about 10 years.  Powersurge is an antiqued gold that can take an eye look you might not be too happy with and amp it up.  This one also makes me appear more awake.
Make Up For Ever Aqua Eyes in 24L.  There isn't a product in the world that will make your eyes pop more than this liner.  When I'm exhausted I always reach for this shade to look more awake.  I'm exhausted a lot, so there is always a back-up of this shade on hand.
Urban Decay 24-7 Glide-On Eye Pencil in Stray Dog.  When this launched with the 15 yr Anniversary Set I was dying.  It was the taupe pencil I'd been looking for my whole life.  I promptly jumped on eBay to buy a back-up.
See what the other participants in this installment of Makeup Wars came up with!  I'm really excited to see what the other ladies have as their faves!  What WILL we think of next?!