I did a lot of picture taking this weekend. Even though I didn't update (other than the giveaway winner!) I was thinking of your guys!
I turned 30 (dirty thirty) on Saturday. Feels like 29… no difference. It didn't depress me like I thought it would. I think a lot of people make turning 30 into a big drama fest, but really… it's like any other year.
The first thing I want to share with you is my birthday mani. I had fully intended on using NARS Zulu but my bday package from Lindsay in CA arrived and I dove directly on the glitters. OPI Sparkle-iscious to be exact!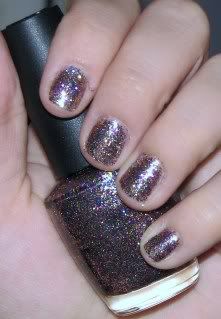 I wanted to use this because it totally reminded me of birthday party confetti. It's a mix of blue, purple, and gold. I did have to do 4 layers and it still wasn't totally covering the whole nail, but I got a TON of compliments on it, and it actually wore better than most glitters. I'm pretty sure I need all of the others now!!
OPI polishes retail for $8.50 at places like Trade Secret and nail salons, but you can pick them up at online retailers as well, sometimes quite a bit cheaper.