Ok, so I lied. I did the swatches around 3pm EST because that is when the best light hits my kitchen, where I take my photos. This BOS has me so freaking excited the photos are already cropped and ready to go! I have a bit of time right now, with Lydia sleeping and Owen busy with his art 😉 so I thought I'd post them now 😉
This BOS is ALL about NYC. Flirty, fun, vibrant… the colors are perfect. NYC is one of my most favorite places. When I was in high school yearbook we would field trip there, stay in Times Square and take classes at Columbia. After I graduated I even used to CHAPERONE… just to get my butt to NYC any way possible.
A lot of these shades, you've seen before… but 7 of them are not permanent shades. (Bordello, Kush, Loaded, Money, Radium, Rockstar, and Suspect). IMO they are the snazziest shades of all and worth the purchase. All of the shades are extremely pigmented, smooth, blendable… the fall out is there, especially for shades like Midnight Cowboy Rides Again, Uzi… the glittery ones. I suggest, when using UD shadows, to do up your eye balls first so you can clean yourself up without screwing up your whole beautiful face.
Things I wish about this BOS. I wish they would have given the shadows city inspired names… Money could = Statue Of Liberty …. just use the landmarks… would have been sweeeetttttt…. ALSO…. I love Zero 24/7 liner… I REALLY do and I use it A LOT… but I'd love to see another one in there… I know it's good to matchy matchy with as much as possible… but this is a FUNKY palette… a gold color liner would have been pretty cool. Same goes for Smog and Midnight Cowboy Rides Again. Two of my FAVORITE UD shades… but they're seriously in every palette I have here. Which is only 3… but still.
For your viewing pleasure….
May I present…
Urban Decay Book Of Shadows Vol. III

From top to bottom:
Perversion, Uzi, Midnight Cowboy Rides Again, Last Call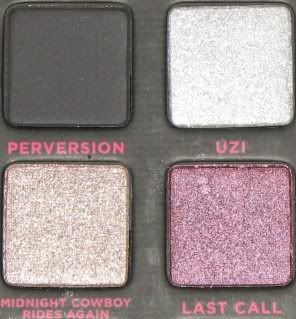 Haight, Maui Wowie, Radium, Snatch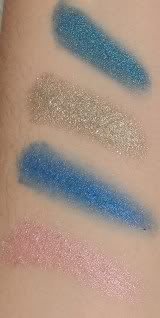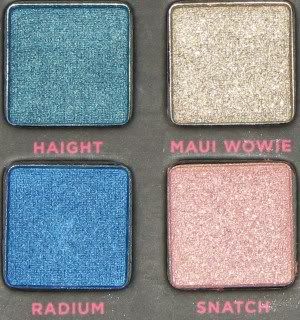 Smog, Bordello, Suspect, Psychadellic Sister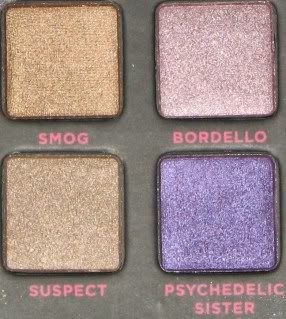 Is it me or does Loaded look a lot like NARS Rajasthan?! hmmmmm food for thought… might be a comparison swatch in the near future!!
…and the liners…

I do wish instead of the original UDPP they would have put in a mini of the new UDPP Eden =\ None of my palettes from UD have Eden. =(
Please reference THIS post for more shots of the UD BOD III outer packaging, cost, where you can buy it.. when… etc 😉
What do you think of this BOS?? Too much like the others? Different and unique enough to warrant the purchase??