We interrupt the regularly scheduled China Glaze swatches to bring you the scariest pic you'll see all week. Maybe all month.
This spider, whom I've named Charles, is living right beside the back door. He's stretched his home from the side of the house and over top the recycling bin. He basically has a spider mansion.
I do have a pic of the web but you can see my neighbors yard in it and their yard is borderline embarrassing because they don't take care of it, so I won't post that one, but if anyone could tell me what the eff type of spider this is, I'd really appriciate it.
As you can see from the final pic, Charles began to pose for me and began to spin around. Really I think he was just getting extremely pissed off and ready to eat me, so I ran inside after this.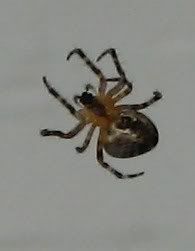 It is so painfully obvious that I am not a country girl.
ETA – It's a barn spider! PICTURE and WIKIPEDIA PIC & INFO
Aggressive towards humans?! No, thank you. Hubby can kill it later.