Hello!
Day 2 of China Glaze and I would love to show you four more shades!!! I did not paint my thumbnail with more than one coat (I thought that nothing on my thumb might look bizarre lol) in any of these because I got a cut (boo) and it hurts to put the polish remover on it… anyway, I hope you enjoy these!
And thank you so much to the 10 ladies following me and anyone else reading this! I'm super nervous about being a new blogger and I truly appriciate all of the wonderful comments & support!
On to the polish!!
CHIAROSCURO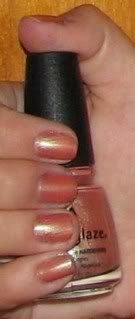 This is a gorgeous color. I'm not sure it does anything for my skin tone though =( I found the application to be a bit runny and hard to keep up with. Fairly sheer and needed 3 coats. I think this one would be beautiful on someone a little more tan than me.
PURE ELEGANCE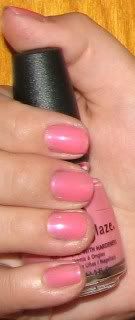 This one is super sheer. The pic above is three fairly thick coats and still a bit uneven. The color is drop dead lovely though. I think if you put this to top off a candy pink color it would be stellar.
JAMAICAN OUT


One of my favorite polishes for my piggies in the summer! Seriously, this one is a must have. My MOM even said she loves it. My mom wears only nude colors on her fingers and peachy colors on her toes. So that is a HUGE compliment coming from her. In this pic I only used 2 coats of Jamaican Out, on my toes I believe I usually use three coats.
ORANGE MARMALADE


I did not expect to fall in love with this one. China Glaze really does glitters well. What a pretty, shimmery orange. I would wear this in the fall as well as summer. I love it when a nail polish can be used for more than one season! This one was only 2 coats.
Until tomorrow 😉 I'll bring you MORE China Glaze goodies!