Yesterday I decided to give my poor nails a break from the dark polishes and try out my one and only Essie polish – Secret Affair. I must say… It's definately in my top 10 polishes. It is the perfect nail color for anything. I felt very classy as I wore it. My only complaint is, this morning it was pretty chipped up at the tips. I was a little disappointed because I wanted to konad on it today. Even so, there are definately more Essie's on my wishlist!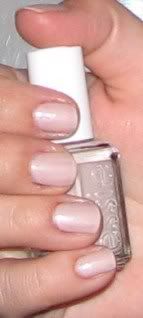 Yesterday I also started Poshe Cuticle Care. It smells divine and I can already see a difference! I'll keep you posted!
Today I have on China Glaze Lubu Heels. I LOVE this one too! Very Chic. I feel like I need the shoes to match lol I see this one being used by me quite a bit in the colder months!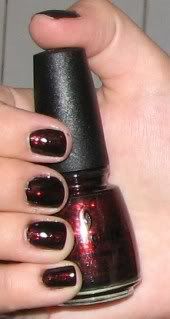 I just noticed I did an angel/devil – naughty/nice thing these past 2 days lol Must be in honor of my children. When Owen is the angel, Lydia is the devil… and vice versa. Neither will nap today. That means it's not a good day =\ but at least the nails look pretty!