*Today's post is sponsored by Thymes, but my obsession with their beautiful fragrances is all my own!
Life and stress go hand in hand. At any age our stresses seem like they're the end of the world whether we're a 4 year old that didn't get a new toy or an adult that needs to find time to get the car inspected. Obviously, these stresses are very minor in the grand scheme of things but they still happen. They're always there. When you're a parent stress magnifies because you're now not only carrying around your daily stresses but also focusing on your child's as well. We all want our kids to be carefree, innocent and have the best time ever. It all seems so simple. What you learn as they grow and go through life is that their stresses will hit you right in your heart. A lot of times you just can't do anything to help other than be there with ice cream and ready to snuggle.
For this Mother's Day gift yourself.
Too often as parents we don't think about ourselves and our own mental wellness. We're completely selfless. As much as I stress about my own things I worry and stress about my kids more. It's hard to remember that we need to be grounded and focused to be the best we can be for our kids. Mother's Day is a great day to remember to put the focus on you and while there's nothing better than your kids handing you their homemade crafts and cards it's also okay to indulge a bit.
When the kids are in bed it's time for me to try and relax, at least enough where I can eventually think about going to bed myself. Call me crazy, but certain scents help me breathe and breathing is the first step to relaxation for me. Since before my kids were born Eucalyptus has been my go-to scent for when I want to relax or have a spa moment. Thymes has an awesome collection of Eucalyptus products ranging from bath & body to home fragrance. It's the perfect selection for my at-home mental de-stress.
Thymes Eucalyptus Bubble Bath ($21.00 // Thymes)
Thymes Eucalyptus Candle ($27.00 // Thymes)
Thymes Eucalyptus Home Fragrance Mist ($17.00 // Thymes)
Thymes Eucalyptus Sink Set ($32.00 // Thymes)
If Eucalyptus isn't your thing Thymes also has a plethora of other fragrance options – definitely something for everyone. Gift yourself and gift a loved one while you're at it 😉
FREEBIE ALERT!
For a limited time get a FREE Fragrance Studio Sample Packet Kit with any purchase of $25+.
You must CLICK HERE to receive this promotion.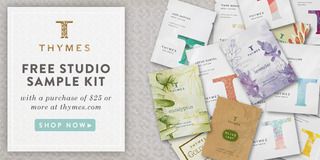 Check out what fragrances Thymes has available and then let me know in the comments what your fave is!